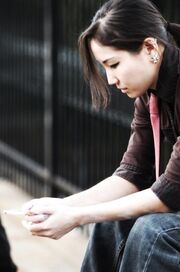 Jen Rau (born October 14, 19??) is an American musician.
Biography
Edit
Early Years
Edit
Born in Seoul, Korea, Jen was adopted by an American family and raised in Hackensack, New Jersey. Surrounded by music while growing up, her father played folk guitar and her mother the piano, Jen believes that "becoming a musician was sort of a natural progression." Although she studied jazz for 8 years, rock drumming also came naturally to her because she spent so much time listening to it. Finding time to practice every day between classes, school bands, and her own bands, Jen sites Dave Grohl as her inspiration to play the drums. "I saw him playing in a Nirvana video and decided that I absolutely had to do what he was doing. I drove my parents nuts for a whole summer until they bought me my own kit." Always listening for new ideas and approaches to drumming, Jen's other influences include Abe Cunningham of the Deftones, Chad Sexton of 311, and Carter Beauford of the Dave Matthews Band. Jen herself admits, "I was a huge band geek in school." As such, Jen participated in concert, jazz, and marching bands and was also in several rock and metal bands "that never really left my basement." Interested in the stylistic devices that bands like Phish and Sublime were playing at the time, Jen also spent some time "doing the jam-band thing" with friends. However, she had only been in one "serious" band from Central Jersey prior to echostream. (1.)
Echostream
Edit
In 2006 Jen joined Echostream and became the band's Acoustic Drummer.
Discography
Edit